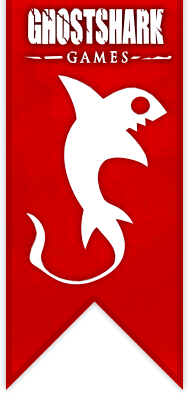 GhostShark Games
A Sci-fi adventure into space station management, mysterious radio messages, motherfucking AIs, sociopathic people in charge, and finding one's true self in a galaxy way too far, far away. A point-and-click adventure created by GhostShark Games, LaBoite, Demigiant and Abstraction. Coming soon on: Windows, macOS, Linux

Blockstorm is a multiplayer first-person shooter set in an environment made of blocks. The game puts a stress on customization, allowing the user to create his own maps, characters and weapon skins using the never-so-easy and quick in-game editors. The game was released on Steam on 21 May 2015, and gained more than 200,000 owners. Blockstorm is also one of the most popular games among content creators on the Steam Workshop platform.

Platforms: Windows, macOS, Linux

If you love classic puzzle games like Tetris, Columns or Puyo Puyo, you cannot stop playing

Jelly All Stars

. In our game, you have to sort the falling jellies by color and combine them to create six different super-sized Jellies, then you have to destroy them using special star jellies of the same color. Maximize your score with explosive combinations and rise in the online ranking! Platforms: Windows, macOS, Android, iOS

Goscurry is a small, hard game, developed by Daniele Giardini with beats by Isak J Martinsson, where you must relax and follow the rhythm (except for speedfreak modes, where things go crazy). Try to go as far as you can by piloting a ship on an infinite road, suspended over a stylized and eerie landscape, while taking sharp corners, evading hazards, and delivering packages around. Platforms: Windows, macOS, Linux
Business Products
Enter Apis' labyrinth with Leo and help him become a real Egyxos warrior. Run, jump, slide, avoid obstacles and defeat the Black Army's enemies. Collect coins and complete the fun, action-packed missions. Only in this way will Leo gain the respect and admiration of Apis, his teacher and battle guide.

Platforms: Android, iOS

Client: Mutado

There is a valley full of joy and happiness to explore, to meet and play with your friends: Ciock, Cocca, Milk and Goccio! In this game you will need to walk as much distance as possible and collect apples and stars along the way in order to overcome a set of missions.

Platforms: Android, iOS

Client: Mutado

The ClemPad is a top-selling Android tablet specifically designed for kids. We worked on the firmware of its first version and on most of its games and applications, including a web browser which allows a safe navigation for children.

RacingMaths is a ClemPad game for young drivers who want to experience unforgettable rides in a path that trains reflexes and mathematical mind! Rotate the screen left and right to steer the car on the highway, avoiding obstacles, collecting fuel and answering questions indicated by the GPS! Learning math has never been so much fun.

Platforms: ClemPad

Leave for an adventurous journey around the world of knowledge with Clementoni ClemPad. Challenge other players and answer the questions to gain the highest score. Discover the animal kingdom, the origins of the earth, the prehistoric animals or the world geography; learn about the earth and space, transport and communications, archaeology and Sciences! Platforms: ClemPad

Tazza Pazza is a game developed to advertise a popular cookies brand: le Gocciole. In this advergame, the goal is to capture as many Gocciole to make unique your breakfast.

Platforms: Android, iOS

Client: Mutado

The GCCA was established by the European Union in 2007 to strengthen dialogue and cooperation with developing countries, in particular least developed countries and small island developing States. In 2014, a new phase of the GCCA, the GCCA+ flagship initiative, began in line with the European Commissionís new Multiannual Financial Framework. The Climate Memory was developed for the GCCA Ethiopia project in order to describe the GCCA efforts to reduce poverty in Ethiopia and to mitigate global climate change. Platforms: iOS, WebGL

We developed an augmented reality application for the trade fair stand of Bioetika in Cosmoprof 2015.